El Centenario is latest phase of Ibarra's American dream come true


---
01/25/2019
The News and Farmer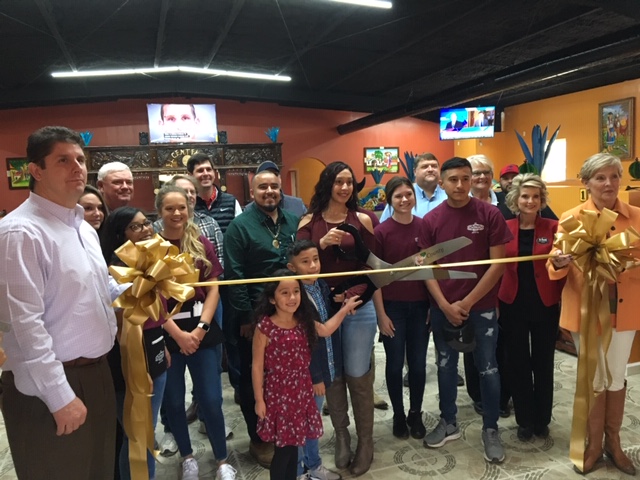 When 9 year old Maurico Ibarra huddled in the back of his parent's pickup truck, rubbing his arms for warmth on their drive into Georgia's piney woods to collect straw near Vidalia, he never would have dreamed that 21 years later, as the owner of multiple businesses, a solid gold coin would flash from a chain around his neck.
He was illegal, didn't speak much English, and while his parents had brought him and his little sister to the states in search of a better life, he had a hard time believing that the American dream could be built in those rural Georgia woods, one bale of pine straw at a time.
But two weeks ago, just before Christmas, surrounded by members of the Jefferson County Chamber of Commerce, Maurico, his wife Elizabeth, and their children Emmanuel, 9, and Isabella, 6, lifted huge scissors to cut the ribbon officially opening El Centenario Mexican Restaurant in Wrens, the culmination of months of planning and years of hard work.
The couple purchased the old Mexican Restaurant on U.S. Highway One from a cousin of his who had been a cook under previous ownership of La Cabana about a year ago. For the last four months that family has renovated the old Squares Building on Quaker Road as their new location.
Maurico relied on previous construction experience to gut the building and redesign it as a restaurant that would more than double the dining space from the property they previously rented.
"All we kept were the steel beams and the concrete," Maurico said. "It didn't have any windows or anything. The inside and outside walls are new. We bought all new kitchen equipment, everything."
The wooden booths and bar, built and decorated in Mexico, glint through fresh coats of lacquer. Repeated throughout the restaurant is the motif of the Centenario, the restaurant's namesake. Seen also in the pendant hanging from Maurico's neck, a Centenario is a solid gold Mexican bullion coin depicting winged victory that was issued to celebrate Mexico's independence from Spain. The necklace and the restaurant mean a different kind of independence to the Ibarra family.
Maurico said he had the craftsmen make several changes to the furniture before it met his standards.
"The guys he knows in Mexico can build anything you want," Elizabeth said. A 2010 graduate of Jefferson County High School who grew up in Wadley, many locals know her as Louisa. "They take scraps and can build anything. The flowers and sun (decorations throughout the business), it's just tin that they cut and paint and make into art."
Maurico said he designed the chairs a little wider to make them more comfortable.
"We're new in the restaurant business but we have a lot of friends," he said. "And I wanted to have a place that I could be proud to invite them to come and eat."
The day after the ribbon cutting, Maurico looked around at the new location and smiled.
"I came from a really small town and we never had nothing," he said. "Everything we have, we worked for."
Maurico said that he attended elementary school in Vidalia when he first came to the states, but had a hard time in school not knowing English and soon quit to help his family collect and bale pine straw.
He learned to speak English slowly as he interacted with people throughout his new community. When he was just 16, he met an older guy in Soperton who was selling a pickup truck by the side of the road.
"I stopped and asked him how much he was asking for it," Maurico said. "He told me he would give me the truck if I would work for him. He said he hung sheetrock. I didn't even know what that was. I had never heard that word before."
He said he had already learned all he could about the straw trade and wanted to learn something new, a set of skills that could lead to higher wages and more responsibility.
"When I started out, I was just cleaning up, but I told him I wanted to learn more," Maurico said. "He showed me and I learned to hang sheetrock, paint it, finishing, a little bit of framing. It was all big commercial jobs on motels and apartment complexes."
About a year later Maurico was supervising a crew of hangers and a crew of finishers and coming in to do the touchup himself. He was on the road to a new career when his boss, the owner of the company, died of cancer. The man's sons did not want to take over the business and without legal status, Maurico could not get the credit or the licenses to take over the business himself. So he went back to the straw with his parents.
A few years later he met Louisa through mutual friends in Vidalia.
"We started having a better life after I got married," he said. "I got legal when I married my wife."
Her family is from Michoacan, Mexico, but she was born here in the states.
With the help of his new inlaws, Maurico said he got his first business loan from Queensborough National Bank in Wadley and established Ibarra Pine Straw. Since then he has grown it from a family business into a company that has employed as many as 150 people. He buys straw, rents fields, bales straw, and hauls their own straw as far as North Carolina.
"Sometimes we buy it or just haul it for other people," he said. "Anything I can do to make money, I'll do it. It's seasonal, March to July are the months when you can really make the most money."
He has had offers to sell the business that he admits he considered.
"I've thought about it because it was a lot of money, but my wife said you grew that business, why would you sell it? We don't need to sell it," Maurico said. "It's a lot of headache, but you don't have a lot of competition because it's hard work and people don't hardly want to work in the fields."
While he was building his company, he encouraged Louisa, an LPN, to go back to school. She is now an RN.
"We've got a good life, I said to her, but what if one day I'm not here, you can have a good life and won't have to struggle. You'll have the education and it'll be good for you and good for the kids," Maurico said. "I don't want them to struggle the way I struggled."
He likes the restaurant, he said, because while it is hard and stressful work, at least he can be clean while working there. For years he said he had thought about going into the food industry.
"I have friends who were in the restaurant business and while we were living in a single-wide trailer, they were living in a big house," he said.
When the opportunity came along to buy the restaurant in Wrens, Louisa says her husband pounced on it. And for this business venture, Maurico decided to come back to Queensborough, the lender that trusted him with his first business loan.
"I showed them my books and they believe in us," Maurico said.
The couple changed the name to signify new ownership and Maurico said he started personally tasting everything on the menu.
"I actually gained a couple of pounds," he said. "Everything on the menu, I tried and then gave them tips on ways to change the recipes. I am thinking that if I like it maybe someone else would like it, but if I don't like, no one will order it."
He also added new items to his Tex-Mex style listings like "the crazy pineapple," a mixed-meat dish served in the steaming half of a roasted tropical fruit. Then there is Platillo Mi Rancho, which comes with a chicken breast, steak, shrimp and a Mexican cactus.
"Literally, it is the 'the plate from my ranch," Louisa said.
"I wanted to bring some of the culture of Mexico here to Wrens," Maurico added.
At the old location they did not have room for private parties, business dinners or events. The new restaurant can seat 180 and has a party room that will sit 40 comfortably.
Maurico says he has a lot of ideas for new menu items, but wants to focus on getting the new location open and running smoothly before he goes about making those sorts of changes.
For one, they would love to expand their alcohol offerings.
"We're just kind of waiting on Wrens," Louisa said of the city, which does not currently allow any business to sell hard alcohol for consumption on premises or liquor sales by the bottle. "We have a lot of people walk in the door and ask if we sell margaritas, and when we say no, they leave. They just want to come in and have a drink. A lot of people go to Thomson, or Louisville, or even Augusta, because they can get them there."
"I just want the customer to be happy," Maurico added. "I don't want like a bar or night club type of deal, nothing like that. I just want to give them a drink with their meal when they come in with their family."
He says that overall he has been overwhelmed by the support and compliments of his patrons on the new location.
"I tell my customers this is kind of their restaurant, because without them, I can't do anything with it," he said.
If successful, he envisions a chain of similar establishments along U.S. Highway One, his main route for hauling pine straw from Vidalia to North Carolina.
"We'll start in Wrens first and see how it goes," Maurico said. "We always have good luck with whatever we do."
ADD PAGE
As you navigate our website, you can use the "Add Page to Report" button to add any page or property to a custom report that you can print out or save.