JK and Co, in the business of transformation


---
05/21/2018
The News and Farmer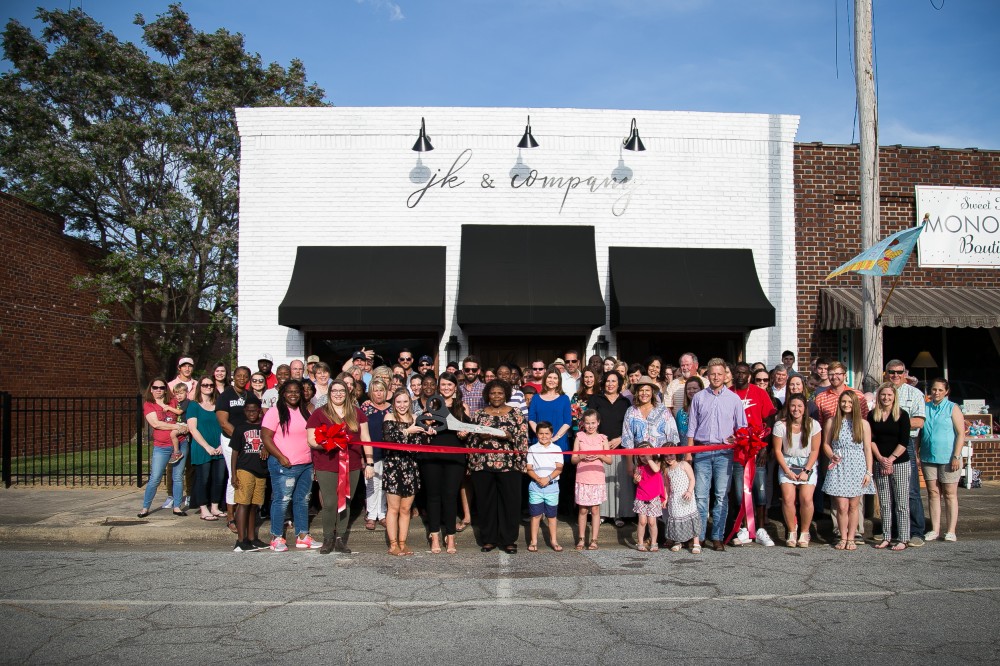 Jenny Kay Collins is all about transformations, be it cuts, colors, extensions; transformations of both appearance and something deeper. And her new salon, JK and Co., recently opened in Wrens, is a testament to that fact.
"When I bought it, I kind of had a vision for it really," Collins said. "That vision involved gutting the entire building."
For the last several months she has been hard at work on the shop at 212 Estelle Street. She removed a drop ceiling to get to the original wooden rafters, stripped the floors and tore out the walls.
She had heard it had previously housed a lawyer's office, a feed and seed store and more recently another salon, she was surprised to find a layer of wall seemingly tie-dyed in bright colors and covered in graffiti. At some point in the 1960s or '70s the building had also been a record sales and Friday disco joint, she said.
"There was termite damage and water damage," she said. "A lot of what you see is brand new."
This includes the re-bricked raw wall, the sepia-toned specially printed wall paper of an aerial photograph of Wrens, the hardwood flooring and bars and all of the fixtures.
"French Industrial is what I was going for. Dressy but at the same time, it's kind of old school," Collins said. "I want to mix and match it where I had every kind of hardware in here so when I see something I want to buy I wouldn't have to worry if it would match."
The new salon, which opened with a ribbon cutting April 14, is about six times bigger than her previous location.
"I always wanted to be in Wrens," she said. "I grew up in Augusta and went to school in Gibson, but my church is here in Wrens and I spend a lot of time in Wrens at the ministry. We got to know a lot of people here."
She felt it was important to renovate and bring life back to one of the vacant shops in the city's downtown and she thought of Isaiah 58:12, which reads: "Some of you will rebuild the ancient ruins of your cities and raise up the age-old foundations and you will be called the restorer of the streets and paths to dwell in."
Collins said she has enjoyed making her vision of the business a reality.
"Building the place, it was real important to me to have both black and white hair offered," she said. "That's unusual here. A lot of places are racially divided. Our churches are racially divided, hair places, a lot of things are. It's important to be an outlet for the community where that's not the case."
While Collins is the owner and operator, she also has an assistant, Sarah Swan, and another stylist, Rosa Lamb of Wrens, who offers natural hair braiding and sew-in hair pieces.
"Rosa does hair of all ages," Collins said. "She does babies, teens, older people. She does a lot of twists. The other day she braided someone's hair for five hours and was going fast the whole time."
Collins herself does a lot of hair extensions, in addition to the coloring, men's and women's cuts and styles and spray tans.
"I've been interviewing nail technicians and a massage therapist," she said. "It's been busy. I'm looking for a stylist that can be here all day and take walk ins."
JK and Co. is open Tuesdays and Thursday from 9 a.m. to 6 p.m., Wednesdays and Fridays from 9 a.m. to 1 p.m. and Saturdays from 9 a.m. to noon.
She also takes appointments outside of regular hours.
The salon uses and offers Kevin Murphy, an Australian brand color and retail products, and a small assortment of locally manufactured gift items and jewelry.
ADD PAGE
As you navigate our website, you can use the "Add Page to Report" button to add any page or property to a custom report that you can print out or save.