Local Legislators Meet With Business Leaders


---
12/27/2017
The News and Farmer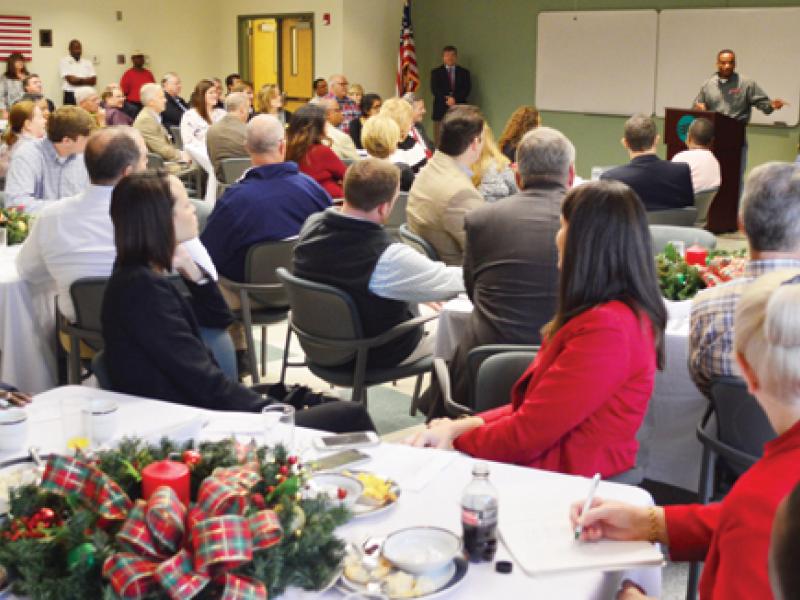 Jefferson County legislators recently said they are aware that rural Georgia is not seeing the same economic growth as more metropolitan areas and they remain dedicated to serve all of their constituents.
State Sen. Jesse Stone and State Reps Mack Jackson and Brian Prince all attended the annual Jefferson County Chamber of Commerce's legislative breakfast Friday, Dec. 1, sponsored and hosted by Jefferson Energy Cooperative.
"I think it's a very important event to be able to talk to our legislators," Jefferson Energy's CEO Chris Dillard said while greeting the business leaders gathered at the meeting. "We thank the legislators for all they do for our state and our community, and on a personal note, thank you for what you've done for Jefferson Energy. I had to reach out after Hurricane Irma and really was impressed with the response I got."
Stone, who serves on the appropriations, banking and financial, education and youth committees while chairing ethics and jucidiciary, was the first to address the audience.
"You have a very good delegation who work together well," he said. "We come together on common issues, particularly local issues. I couldn't ask for better colleagues."
This time last year all three legislators collaborated to push a piece of local legislation that resulted in the referendum that allowed Jefferson County voters the opportunity to cast ballots in the spring on whether they would support a tax to prop up the county's hospital.
All three said they were proud to work on support for local healthcare.
"You have a great facility that is truly supported by the community," Stone said. He went on to encourage citizens to take advantage of a new tax credit that allows area residents to direct 90 percent of their state property taxes to go directly to supporting Jefferson Hospital.
Stone said he expects to see a vote on a bill that hopes to elevate the rights of victims of crime.
"The bill has passed the state senate and is now in the house judicial committee," Stone said. "If it passes, it will probably be on the ballot the following November."
The bill, referred to as Marsy's Law, attempts to place the rights of these victims in the state constitution.
He also expects there to be an update on the state's adoption code, which he said has not been looked at closely in almost 30 years. The update would make adoptions in Georgia more common and recognize adoptions from other states and countries.
Stone said there has been a big focus, primarily driven by the governor's office, on criminal justice reform.
"The push is to improve the system so that we have a better outcome in dealing with nonviolent crimes and reintegrating offenders back into society," Stone said. "We've been able to slow the growth of prison populations over the last seven years so that we have saved taxpayers money while reducing recidivism. It has been a good model and Georgia is recognized as a leader in this."
In education, Stone said that the legislature has been listening to the state's educators and working to roll back some of the unnecessary testing and bring more compensation to the profession.
"We're trying to bring common sense back into the state's role as a partner with local school districts," he said.
He said that during the recent recession that lasted almost a decade, education, which remains the largest part of the budget, did experience some reductions.
"It's only in the last couple of years we've been able to increase resources," he said.
Many of these resources are being directed to schools that are having a hard time.
"Richmond County has the third highest number of failing schools out of any county in the state," Stone said. "The governor has taken note of that. It's something we can't ignore. If we expect to become the tech center of Georgia through cyber initiatives and to capitalize on that, we have to have a better trained workforce."
Rep. Mack Jackson, who serves on appropriations, legislative and congressional reapportionment, public safety, homeland security, small business development, state planning and community affairs was the second to address the crowd.
"We had a meeting earlier when we talked about economic development and you are to be commended for all the hard work you are doing because our rural counties are suffering and Jefferson County is finding ways to make things work," Jackson said.
He serves on a study committee created by House Resolution 389 to study the economic development challenges faced by rural Georgia.
"Atlanta is experiencing explosive growth and economic development and we are not seeing it shared through rural Georgia. Speaker Ralston charged this committee to study and to work hard to find solutions that we can make meaningful legislation to improve economic development in rural Georgia," Jackson said. "This is a two-year study and we ask you to be patient with us because we have not put any legislation together yet, there may not be any in 2018. It might come out in 2019. But we are looking at everything."
He went on to talk about the importance of rural health care, adding that Washington County passed a similar referendum to Jefferson County's earlier this year.
"And just last week its hospital experienced a reduction in workforce by 27 positions," Jackson said.
Since 2010, he said, the state has seen six hospitals close.
"In 2017 there were at least nine legislative studies done on healthcare," Jackson said. "We've learned that healthcare is the basis for everything. If you lose your hospital then, as Jimmy Lewis says, you can turn your lights out, because the hospital is vital to economic development in our areas."
He said that this committee is also looking at ways to support job growth in rural Georgia.
"GDOT is looking at ways to provide rural mobility and rural public transit in Georgia. They have a strategy to provide nonemergency transit in our rural areas," Jackson said.
Rep. Brian Prince serves on appropriations, defense and veterans affairs, motor vehicles and transportation.
He said that he has been working to make sure the state's military bases are positioned to protect them from closing under the next round of Base Realignment And Closure (BRAC).
"What we try to do is make it community friendly for the military so that when those things come up, and they will come up again in DC, we want to make sure we are postured to make sure we keep our bases open," Prince said.
He said that he has also been involved in a distracted driving study and that citizens should expect to see the findings and recommendations soon.
"Some people are going to think it's kind of drastic, but think back to when we started talking about seatbelts, requiring you to have seatbelts. Folks didn't like that. Now they see how we save lives," Prince said.

ADD PAGE
As you navigate our website, you can use the "Add Page to Report" button to add any page or property to a custom report that you can print out or save.